Visits
If you and your child decide to participate in our study, you can either visit us at the Children's Clinical Research Facility here at University Hospital of Wales or if you prefer we can come to visit you in your home.  A member of the team Kylie, Mike, Gill or Louise will use equipment to perform some measuring and breathing tests and also ask some questions.  More information on the study can be found in the-study page where information leaflets can be found for you to look at.
If your child is eligible to participate in the second part of the study, they will be invited to come to our research lab at for further testing.  Click on the links below to see a spirometry and cardiopulmonary exercise test being performed.
Body box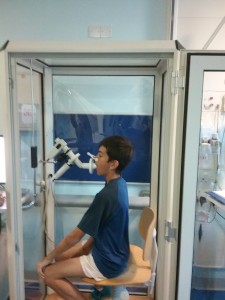 https://www.youtube.com/watch?v=Zgx1_inGTjs
Bicycle test
https://www.youtube.com/watch?v=vWXWkyq_QN8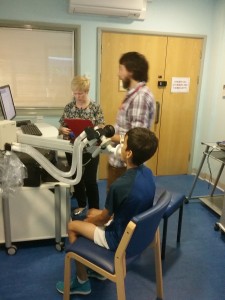 MRI scanner
The final part of the study if you and your child choose to continue to participate, involves a trip to University of Sheffield Radiology Unit,  Royal Hallamshire Hospital, Sheffield.  Here the specialised team have the equipment and expertise that we need to perform the MRI scans. They have developed a new technique which is radiation free and can detect the structure of lungs in far more detail than previous.  
 Click on the link below to see an MRI scan being performed.
https://www.youtube.com/watch?v=EJBJaGKWXOQ