Double delight
24 May 2018
Max and Stella, aged 12, were born at 26 weeks in Singleton Hospital, Swansea and spent 14 weeks in neonatal care. Max weighed 2lb 3oz and Stella was just 1lb 13oz. The twins both had brain bleeds, while Stella had a heart murmur and Max needed a lumbar puncture. They both had bouts of bronchiolitis during their first few years, meaning repeated trips back to hospital.
Their mother Josephine did not hesitate when she received the questionnaire asking them to take part in the trial.
She explained: "I just think that we were so grateful for all the help we had, I'd do anything to help. Why not? I I owe the wonderful NHS anything I can.
She said Max and Stella had "loved it", adding: "The staff are such a lovely team. They always made them feel welcome. The kids loved being the centre of attention."
Both the twins are sporty. Living by the sea in Porthcawl, south Wales, they are both in lifeguards which involves pool swimming and beach training a few times a week. Max boxes three times a week and does football and basketball, while Stella does netball and hockey. Jo said as a family they believed in doing something to the best of your ability and trying hard.
So, although their history of lung issues meant it wasn't a complete shock to discover they had lowered lung function, Jo admits she felt "quite guilty" for not listening more closely to the twins if they said they were tired after swimming, for example.
"If they hadn't done as well as they hoped, I'd say, 'oh well, you just try a bit harder'. Now when they say they are exhausted after swimming 30 lengths, I believe them!"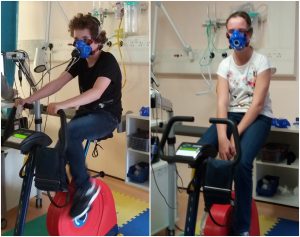 As well as taking part in the inhaler trial, the twins have also travelled to Sheffield to have MRI scans of their lungs.
"It was really interesting because I'd never seen an MRI scan," said Jo. "They were nervous before, anxious and scared. They didn't want to do it but in the end it was very exciting for them and it was very well explained.
Jo's message to other parents and children considering taking part in Rhino is this: "I would say do it. It's not time consuming, it's not scary. It's something that can change lives, and when I explained it was something to help future premature babies then they wanted to do it. It's interesting for the children and it's not onerous."
---
Easter bonanza
19 April 2018
Numbers are rising steadily on the recruitment front. Most recently, over the Easter holidays around a dozen more children came down to the lab for testing. A total of 27 premature children either have finished or are on the inhaler trial, while a further 90 prems and term-borns are taking part as control subjects. We've had 684 questionnaires returned, so we're hoping that some of those families will be coming through the testing system soon as well. Watch this space.
---
New year, new recruits
25 January 2018
There's a whole new round of questionnaires heading out to families across Wales. Look at how far we've come since the first were mailed over a year ago – 2,000 questionnaires sent out, over 530 returned to date and 425 children signing up for home visits. There are 23 prematurely-born children who fit the criteria on the trial, and a whopping 69 others, both premature and term-born, who are acting as control subjects. Thanks to all who have generously given their time.
---
Thumbs up for MRI trip
30 November 2017
We've had some feedback from parents whose children have already taken the trip up to Sheffield to have an MRI scan for part three of the trial. It's pleasing to report that despite the length of the journey and time involved, it has been a good experience.
Here is a selection of comments from the families:
"Everybody was really friendly and helpful. We're just glad to help."
"The staff were great. It's a long way but you can't help the distance. It was generally very interesting. Isaac would go again given half the chance."
"It was fine. The driver was lovely. The staff at the hospital were wonderful. I think my daughter actually enjoyed it (after dreading it beforehand). The staff couldn't do enough for us."
"He was so eager to do a stage four (of the trial) but I said I don't think there is one."
Once again, thanks very much to the children and parents who so generously gave their time to take part in the study.
Early on, we had feedback from one of the first participants that they felt parents should be given expenses up front rather than having to claim them back after the day. We acted on that straight away and families have since been given vouchers to purchase food and drink, so nothing comes out of a family's pocket. It's so important for families to feel appreciated, and we welcome suggestions on anything you think might help.
---
Tom's story
9 November 2017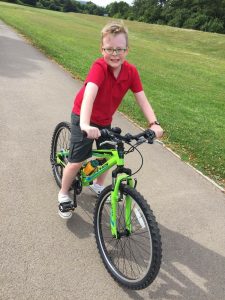 Dr Mike and Nurse Kylie have seen 85 children in the testing lab, and now have 17 on the trial. As a reminder, this is the business part of the Bebe project, where children are given an inhaler for 12 weeks and asked to keep a diary of symptoms. Some of the inhalers contain different types of drugs and some are placeboes, containing no medicine. At the end of the trial, they will redo the tests in the Clinical Research Facility (see below for more info) and see if there has been any change in their lung function. So far four of our participants have finished the trial.
One of the children who is taking part in the trial is Tom, aged nine. Here his mother Justine gives Tom's history and explains in her own words why she and Tom decided they wanted to be involved.
"Tom was born on 11th July 2008 at 24 weeks and five days weighing 1lb 13oz. He spent just over four months in the University Hospital of Wales' neo-natal unit and came home on 13th November, two weeks after his due date.

During his period in the NICU he had eye surgery, PDA ligation (a type of heart operation) and hernia surgery.

Over the next two winters he spent in excess of six weeks in hospital due to breathing-related conditions. Now, aged nine, Tom is still under the care of the respiratory team at UHW.

It is undoubted that without the excellent care of the nurses and doctors, Tom would not be here today.

The Bebe study was sent to us, and both Tom and I agreed that it was important to volunteer with the research as there are only a small percentage of children eligible to participate. We hope the findings of the study will benefit other ex-premature babies and their families.

Tom really enjoyed taking part in the assessment day (possibly because it meant a day off school!) and is more than willing to take his pumps and record the findings. He's looking forward to returning to the hospital again soon!"
---
It's official – the CRF is open for business!
13 October 2017
The Clinical Research Facility (CRF) where we carry out the testing for the children is officially open! Health minister Vaughan Gething came down to the Children's Hospital to open the CRF – official new name the Children and Young Adults Research Unit. The team has been putting it through its paces this summer (see below for more on that), so it's good to see it get official status. Check out our very own senior research nurse Kylie Hart giving a beaming smile at the front of the group next to Vaughan Gething.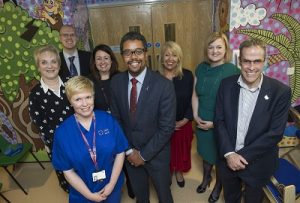 The unit is the first of its kind in Wales and will be a resource for lots of different researchers and clinicians who want to carry out research involving young people. So it's not just the children taking part in Bebe who will benefit from it (but they can be proud of being the first ones in it 😉).
For more information about the unit and its opening day, have a look here.
---
Super summer
4 Sept 2017
The holidays might be over for the schoolkids, but for our team of Fantastic Four the summer "break" has been anything but. Holidays mean lots of opportunities to get the children who agreed to take part in testing down to the lab for Mike and Kylie, and extra chances to do the initial home visits for Gill and Louise – they are now up to over 250. The Clinical Research Facility (CRF) in the Children's Hospital moved from its previous home in a rather small room to a new, spacious setting next door, giving Mike and Kylie the chance to pack in two participants a day if required, with the extra space available. They managed to see over 40 children during the holidays, and we now have nine enrolled on the randomised controlled trial, with 41 prem controls and 19 term controls. Well done to everyone who took part and good luck with the 12-week trial. For this part, the children are using inhalers and keeping a peak-flow diary – measuring the volume of air in their lungs. When it's over, they will come back and do the lab tests over again to see if there has been any improvement in their lung function.
---
Why take part?
11 May 2017
This week, we caught up with a family taking part in the trial. Luis from Llanelli has already had a home visit, and came along to Cardiff to take part in the second part in the testing lab. This is his story.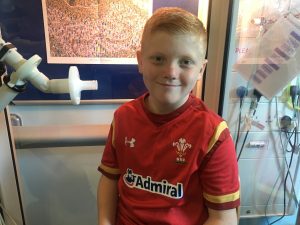 Luis, 10, was born eight weeks early at Glangwili hospital in Carmarthen, the youngest of four children, and the second one to arrive early. His mother April had pre-eclampsia in three of her pregnancies, meaning Luis had to be delivered early by Caesarean section. This time, it wasn't quite as much of a shock as when her second child had arrived five weeks before his due date.
She said: " I was in and out of hospital for quite a few weeks before that. I was more prepared with Luis. He weighed 3lb11oz and was in an incubator. We were in for about three weeks and I think it was because of his weight."
Luis came through his premature birth with flying colours. He was diagnosed with ADHD when he was five but April said he was much calmer now and a very active boy who loved playing rugby for his local team.
'Lucky'
Like other parents in the trial, April said one of the main reasons the family had joined the Bebe project was because they felt lucky Luis's prematurity had not had more serious consequences.
"It's to help other children," she explained. "I think I'm lucky that he's been fine. Nature's cruel, it could have gone any way really. It's not nice at the time because you don't know what the outcome's going to be, but he's healthy and thriving."
She said Luis had been keen to take part and had enjoyed the home visit. "I don't think it was draining on him. They were good the way they do it. They explained what they would be doing," she said.
Luis came along to the Children's Research Facility at the University of Wales to take part in the second stage of the trial, where senior nurse Kylie and children's doctor Mike carry out a series of breathing test over a few hours.
April said during the testing: "Luis is enjoying himself; enjoying all the attention!"
---
Hitting a century!
28 April 2017
The team is into three figures for home visits completed. The nurses had a very busy Easter holiday period, as kids off school meant a good opportunity to get in lots of visits. Let's hope they had lots of Easter eggs to keep them going.
---
Springing into action
30 March 2017
With April just in sight, the team is leaping towards the Easter holidays like a bunch of mad March hares. Not for a break – this is a great chance to get a good chunk of home visits done while children are off school and to get them down to our testing room at the Children's Hospital of Wales (see below for pictures and more details). The questionnaires have been coming back and new rounds are being sent out at intervals to keep the Bebe bunch on their toes. To date we've had 211 questionnaires returned and done 62 visits. Keep them coming in!

---
Happy New Year
12 January 2017
Christmas is over and with January properly under way, the team is back in pursuit of those completed questionnaires. We've had over 50 sent back to us, have completed visits to more than 20 families so far, and have more than that number again lined up. Now that the decorations are all down and life is returning to normal, if anyone has an unreturned questionnaire lurking under the last of the mince pies, now is the time to dust it off and send it in. Your help is so vital to the success of the project, and the health of tomorrow's premature babies. We really appreciate it. Don't forget, any questions you have the team will be happy to answer. See here for contact details.
---
And we're off…
Well the good news is we are now ready to go!!!!  We have over a 1,000 invitation letters and information leaflets ready to send out: the first batch of these are in the post and are on their way to your door. We are looking forward to hearing from you, and hope to visit you in your home or here at Noah's Ark Children's Hospital, which ever is more convenient for you and the family.

---
 Welcome to the Children's Clinical Research Lab!
The testing room is based in the Children's Assessment Unit, Noah's Ark Children's Hospital.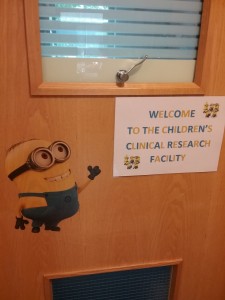 The latest news is that the room is now finished and ready for us to invite you in to use our special equipment. The Minions and the research team have been very busy decorating the testing room in preparation for your visits.  Look below at the pictures and those in the gallery.
Minions busy at work………. and at play.
Here is some of the exercise testing equipment we shall be asking you to try out for our study.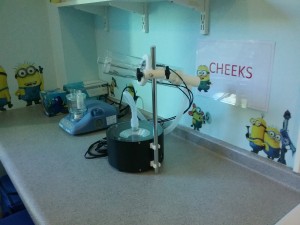 This is called the FOT machine, it measures your lung function using sound waves.
Both these machines are used to test your lung volume and capacity.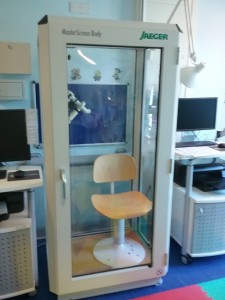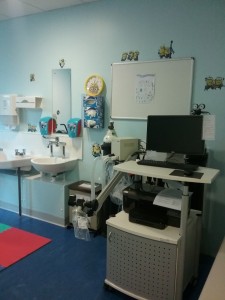 Our old bicycle has now been replaced by a more child friendly one. It will help us to see how long you can exercise for and to assess your breathing output.
Also pictured is the exhaled breath collector- it collects your breath in a tube just by breathing in and out.
---
More recruitment
The research team is expanding. Dr Mike Cousins is now on board as the project's clinical research fellow (or "doctor who investigates things") and joins our senior research nurse Kylie (see below!). For more info on Mike and his love of all things medical, take a look here.
In May, we welcomed our two research nurses to the team.  Both Louise and Gill come from an extensive neonatal background with over 10 years experience of working on the neonatal unit here at UHW.
---
The testing room – a work in progress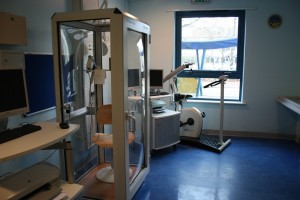 This is the place we will be carrying out the breathing and exercise tests on the children in the second phase of the project. Check out the Background page for more information on the project stages.
The room is located in the Noah's Ark Children's Hospital for Wales on the University Hospital of Wales site (or the Heath, as everyone really calls it) in Cardiff. It is in the process of being equipped with everything the team needs to do the job. It will look a bit brighter and friendlier by the time we've finished with it too!
As you can see, there's a glass booth which the children will sit in to do some breathing tests. Let's have a closer look: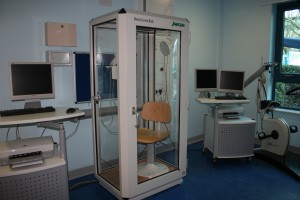 It's not really a tardis, so sadly we can't promise a time-travel adventure to the children who step inside. If you want to know what it really does, here's a bit of science for you.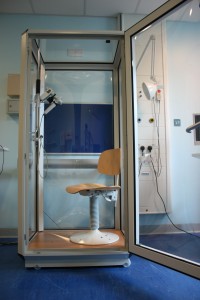 It's called a body box, and it uses a technique called whole body plethysmography. The child sits in it with a mouthpiece to breathe into. Monitors measure the air pressure in the box while the child breathes through their mouth into the mouthpiece. Then a shutter in the mouthpiece closes and the child continues to breathe. Now very sensitive sensors in the box are able to measure the amount of gases (air) in the child's lung, showing how much space there is inside the lungs (their volume). It can even tell us how much of the air can be used by the child (a measurement known as vital capacity), so helping show how efficient the lungs are.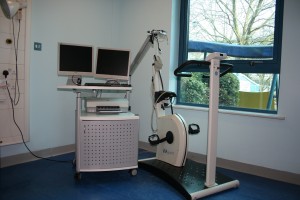 There's an exercise bike for the children to use to get their hearts going and assess their breathing output while doing exercise. They get to have monitors attached to check their heart rate and other feedback.
The bike pictured is for adults, so will not be the one the team will use for the project. We'll have a child-friendly size one with supports, but let's take a look at the one that's there for now, to give you an idea.
---
Recruitment
In January 2016, senior nurse Kylie Hart joined the team. For more information on her role, pop over to the Meet the Team page.  Kylie will be joined by two other nurses and a doctor shortly, so the work of meeting the children to carry out interviews with them can begin in earnest.